Ready for a breath of relief?
Every teacher and parent in America has growing concerns about the quality of writing kids are producing. Many argue that text messaging, instant messaging, Facebooking, tweeting, and other forms of "sound bite" communications are impacting kids' writing. It's a valid claim, and a lot of younger students are bucking the more developed and sustained writing pieces.
The exciting update is that blogging is helping students see writing as fun again. More details, complete sentences, and developed patterns of thought are making their way back into the norm of student writing. Exhale!
Blogging provides short, great one-to-one opportunities.
Read on to find a number of tips on how to set up a classroom blog for younger students and how to get them jazzed and excited to contribute to it.
It's all about ownership:
Once the kids feel invested and know their contributions are actually being seen by others, the energy of this project will be palpable. Tell them they are about to be "published authors" and watch their faces light up!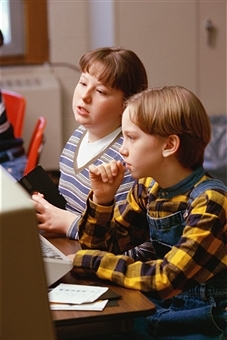 Another great opportunity for peer-editing and team building!
Where do you start?
Presenting the idea:
1. weB LOG: Journaling is not new to you; you've probably had your students journal in one form or another, and a weB LOG (or blog) is simply a synonym for online journaling. That's a great way to present it to your budding writers.
2. Whose eyes are watching? Far too many students write for just one set of eyes: the teacher's. Sharing with kids that they will have a much bigger audience (friends, siblings, parents, grandparents, other students in the school, their principal, etc.) will instantaneously increase the quality of the writing – especially for the young ones who need a shot off motivation.
3. Responding: Even more writing will come when the kids watch the comments come in. Encourage parents, colleagues, and administrators to check out your blog and post comments. The kids will have a ball engaging back and forth – all while continuing to exercise their writing muscles.
Can you say "Proud"?
Getting started:
Take some time to wrap your head around what tools and websites available:
Blogger.com is a great site, and so is edublogs. Both have easy interfacing and are user friendly. Blogmeister is excellent as well, and if you're looking for a more private, in-classroom-only blog, take a look at KidzBlog.
You'll find that each of these blogs is either free or very affordable, and all of them have excellent step-by-step instructions. Check your techno-anxiety at the door! This is the fun and easy stuff that will remind you, once again, why you teach.
On your mark, get set…
GO! Consider some of the many ways to get their engines roaring. Get them started by having them…
respond to daily or weekly prompts about school activities or an upcoming event
make individual observations about a science experiment that is "developing" over time
share details of a field trip or class visitors
update the planning for your end-of-the-year trip or holiday celebrations
document a special community service project you might be working on
The possibilities for your published writers are endless!
Covering your bases:
While this is an exciting tool, it's of paramount importance to chat with your administrator about your district's policies regarding publicly sharing students' work. The more common rules and regulations involve not allowing students' last names to be published.
While group photographs are usually fine, it's important to make sure names are not connected to individual students in the photos (like "tagging" is done, for example, on Facebook). To ensure that there aren't any negative repercussions to this excellent class activity, just be sure to cover this important "online safety" base. Edit all student work before it is published, to make sure that the kids aren't inadvertently giving our personal information.
Think about the trajectory of so many projects, activities, and learning opportunities that go on in your classroom. Blogging is such a great way for kids to document and augment their learning. And without a doubt, parents will be thanking you for helping students to step away from text-message-style writing, and back into the more detailed and developed writing styles they'll need for the rest of their lives.
Keep their energy, engagement, and enthusiasm going in the right direction by building your new classroom blog. Have fun with it, and be sure to share your ideas!
About the Author: Valerie J. Wilson is a both a teacher and freelance writer. She enjoys blogging for various individuals, companies, and organizations and often assists students and faculty on how to best protect their online reputation.